Free Delivery on ORDERS OF $30 or more(Apple purchase required - cider or apples qualify)
2022-2023 Delivery Schedule
Only Tuesday and Wednesday Deliveries left!
Wednesday - Ilderton and Lucan
Every Tuesday- Rodney, Dutton, West Lorne, Glencoe, Wardsville
Please Refrigerate your apples to maintain optimal freshness!
Storage tips:
The Best place to store your apples is in your fridge crisper. Please do not leave your apples out on the counter or in non-ventilated plastic bags. Storing apples in non-ventilated plastic shortens the storage period of apples. Apples naturally release gases that become trapped inside plastic which greatly reduces the lifespan of apples. It's not uncommon for perfectly fresh and crisp apples to turn bad after being left on the counter wrapped in a plastic bag for a week or two or sometimes even less. Also, be careful storing your apples in the garage. Your garage may act more like a freezer than a fridge this time of year!
Location
Janssens Farm Fresh Produce
We are 25 minutes outside of London, 15 Minutes from Strathroy, 10 Minutes from Mt Brydges and Glencoe.
From central and west London, take Oxford street west through Komoka and Mt Brydges, turning right onto Springfield road (first road after Melbourne Rd) and then left on to Falconbridge.
Curbside Pick-up!
During a normal season, we can be found at many prominent, well known farmers markets in the London region, including the Covent Garden Market, Horton Farmers Market in St. Thomas, Trails End, Masonville, Stratford Farmers Market and the Pinery Market in Grand Bend.
This year, we are offering our customers the opportunity to come to the farm for curbside pickup so they can actually see where their produce is grown.
Click Here to Start an Order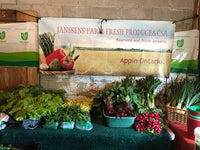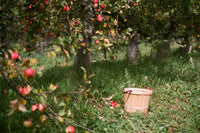 Apples!!!!
Raymond Janssens has been planting, caring and picking apples for over 30 years.  Many varieties are available such as Macintosh, Mutsu, Gala, Honecrisp, Spy and Ambrosia.  Harvest typically begins in late July and continues throughout the fall.  
COMMUNITY SUPPORTED AGRICULTURE (CSA) MEMBERSHIP PROGRAM